I've really started to like skiing, and so has my son, so last weekend we went skiing in the Poconos. This was his third day skiing this winter. It was my fifth, which means that I've spent as many days skiing this winter as in the previous forty-mumble years combined.
I had badly wanted to ski that weekend, because it looked like my last opportunity for the season. I managed to pick up a double hernia late last year, and I'm having it repaired in just over a week. That'll put me out of action until mid-March, and I expect skiing will be done for the season by then. (Especially because, right after the all-clear date, I'm going to Florida for a week.)
I had hoped to leave Friday evening, before the snow got too bad in NYC. When I came to get the kid, though, his mom and I differed vigorously about what "too bad" meant. I backed down and agreed to stay in the city overnight, planning to leave in the morning. For four hours after that, the city got nothing but light snow, so I fumed a bit.
The roads were in excellent shape on Saturday morning, despite the 8 inches or so of snow that fell overnight in NYC. Moreover, they were empty, making for the fastest drive to the Poconos I've ever had. We had an early lunch and then headed for the resort.
The original plan had been for the kid to spend all day Saturday in ski school, but our midday arrival quashed that. So I signed him up for a group lesson in the afternoon and then took to the slopes myself. I warmed up on some longer green trails and then started looking for manageable intermediate trails. One trail was just right, and I did it a few times, but it was short. Another seemed mostly ice and moguls. Still another was so intimidatingly steep that I didn't even try it.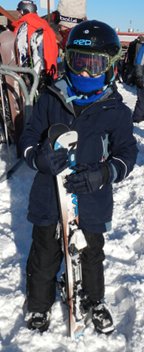 At 3:30, I picked up the kid at the end of his lesson. The instructor said that he was doing really well, so, for the first time, we took the lift to the top of the mountain and skied the easier green trail down. We did it again, but then agreed that we were tired, so we went to the hotel to check in.
A dinner of pub grub in one of the restaurants was followed by video games and then bed.
Sunday morning, we packed up and checked out and then set out for the resort again. The GPS seemed unwilling to accept that one key road was closed, so it took a lot longer to get there than I had expected, which led to a cascade of other problems, each one adding to the delay. Still, I got the kid into ski school only a little bit late. They tested him and sent him right to the top of the mountain.
I warmed up on a green again, and then went back some of the mixed green/blue trails that I'd had the most fun with the day before. I got to the top of the scary-steep trail but psyched myself out and took a different way down. Then I took the lift back up and made myself do the steep trail.
The steepness, as it turned out, was not so much a problem as the ice. K, who had gone ice climbing for the weekend instead of skiing with us, would have been much better equipped for that slope. (On the other hand, K reports that her hikes to the climbs were hindered by a lot of fresh powder, which at least made for a nice symmetry.)
I fell a few times. The only real problem was that, one of those times, I lost a ski, and it wound up about 10 feet straight uphill from me. Straight up the steep, icy hill. Between my ski poles and the edge of my remaining ski, I managed to inch up to retrieve it, but it was hard work.
I was tired and hungry when I finished, but I didn't want to stop right after a run that had given me so many problems. So I went back up, skied down an easy trail, and then got lunch.
After lunch, I did a couple more trails, including the blue that was the longest trail on the mountain. But I tired quickly. It was my second day of skiing in a row, the slopes were getting icier and icier, and I was losing my patience for dodging kamikaze boarders and skiers.
At 3:30, I retrieved the kid from ski school. He'd made a lot more progress, skiing his first blue trail that afternoon: he'd done that same longest trail. Twice. But he was tired, too.
We went back to the car and drove home, stopping first for dinner and then to pick up K at the train. Then we all went back to my place and were tired together.